Awards and Recognition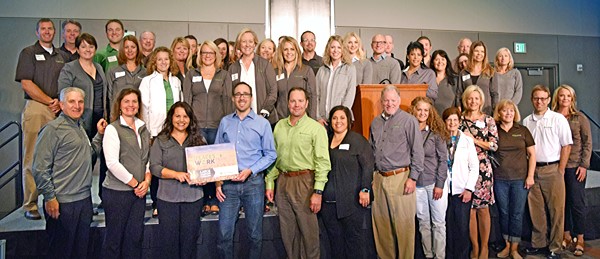 Our work environment and team collaboration produce world-class employee and customer engagement, which has been recognized by several awards. Click the icons below to learn more.
Gallup Exceptional Workplace Award 2020, 2019, 2018, 2017
Gallup combines analytics and advice to help leaders and organizations identify opportunities and create meaningful change. Their Exceptional Workplace Award uses world-class analytics and research directly from customers and employees to evaluate the best workplaces in the world. At Northwest Farm Credit Services, we are in the 99th percentile in Gallup's employee engagement database, meaning we are more engaged than 99% of all companies ever studied by Gallup.

Best Places to Work - Inland Northwest Award 2020, 2019, 2018, 2017, 2016
The Best Places to Work Inland Northwest is a survey and awards program dedicated to identifying and recognizing the area's best employers. The Spokane Journal of Business and the Best Companies Group award organizations based on survey results from both employers and employees. The surveys provide an evaluation of company policies, practices, benefits, demographics and employee satisfaction and engagement.
WSU CAHNRS Philanthropic Corporation Award 2019
The WSU College of Agricultural, Human and Natural Resource Science's Philanthropic Corporation Award recognizes companies that value the impact they can make through philanthropic investment in the university. We received this award for our support of the WSU Sunrise Research Orchard, Ste. Michelle Wine Estates WSU Wine Science Center, WSU Extension and 4-H Youth Development program, and through internships and scholarships provided to WSU students.